How to understand reads per chapter stats
How to understand reads per chapter stats
Reads per chapter statistics on Booknet help authors find the answers to the next questions:
How many readers start reading my story?
How many of them finish it?
Where do readers stop reading my book?
How many readers read my book right now?
Is my book getting more popular?
The reads per chapter stats can be accessed only in the desktop version of Booknet. To find it, click on the number of reads on your book's page (next to the "eye" icon) and click on the "Statistics by parts" button below the first graph.
Or you can click on the "Reading Statistics" button in your dashboard, then select a book in the left column and click on the "Statistics by parts" button.
You will find a table. Book parts are placed vertically, and dates are placed horizontally. It's possible to see the statistics for the past month, year and all time if you select the tabs above the table.
The following image is an example of reads per chapter statistics.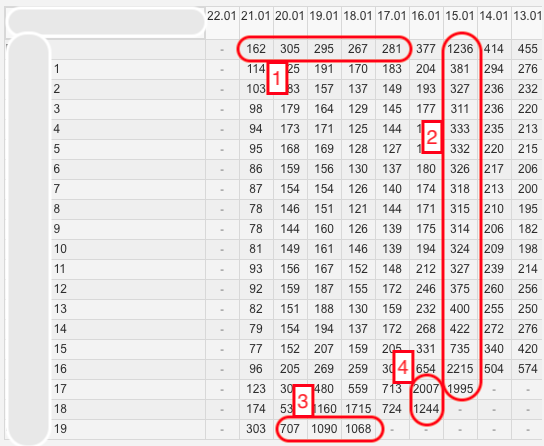 The number 1 in the image shows the reads of the first chapter (or prologue) at a specific date. This result is influenced by your book's place in ranks, its cover, story description, ads, social networks etc.
The number 2 shows how many reads of all chapters were on that day. This is useful because the author can calculate the percentage of readers who started reading a story, who continue reading it and finish. If the author makes an update or gets promoted, there will be a spark on that day. In the image, we see that more new readers started to read the book on the day of adding an update (January 15). By the way, we use dd.mm.yyyy date format on Booknet right at the moment. But more options to come in the future.
Figure 3 shows how many readers are following the book updates. The author should calculate the number of reads in 2-3 days after the update. These readers are the most active followers and they are the majority of the book's "regular readers". If the book is paid ongoing, they will be the buyers.
Note that in the case of very regular updates, there may be a confusing pattern in the statistics, as number 4 shows. When the reader opens the book after the update, they automatically get to the last opened part. Thus, the statistics of readings of the previous chapter on the day of the update may be "doubled". Chapter 17 was read by 763 "new readers" that day (2007 reads in chapter 17 minus 1244 reads in chapter 18).
This is how reads per chapter statistics can provide authors with handy information about their book. If you have something to ask on the topic, leave your question in the comments.
And some motivation from Matthew McConaughey as a bonus.