Possession 2.
Hey guys,
Possession 2 is already out. You can add the book to your libraries. 2 chapters are also updated. Do give it a STAR.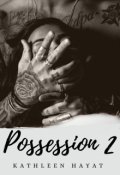 Her breath hitched as he flushed his body against her cold one. Warm water cascading down their bodies. She was stiff feeling his hard muscles, her body reacted to him as metals reacted to magnet.
His muscular arm wrapped around her slim waist in a steel like grip as he jerked her closer, she was on her toes.
His fingers pushed her dark wet hair away from her face as he ever so lightly tugged at her hair causing her head to tilt back and her neck to be visible.
He lowered his face down, his tongue darting out and he licked her skin causing a shudder of terror mixed with pleasure run down her spine. He bit her skin. Adamant to leave his mark.
His lips found her earlobe as he nibbled on it. The words left his lips like a sacred spell of forever possession.
"I love you, Princess." He rasped.
****
Have a good day :)